Vibration Meter
Type:AIS-VM10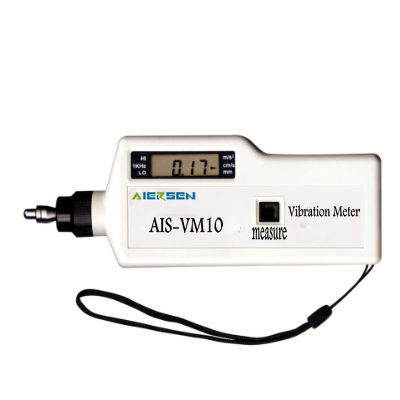 1.Integrated accelerometer and digital display.
2.Wide measurement range,from low frequencies characteristic of unbalanced rotation and misalignment,to high frequencies resulting from bearing vibrations.
3.Measures acceleration (m/s²peak), velocity(cm/s rms),and displacement (mm p-p)
4.Newly designed shear type piezoelectric pickup measures a wide vibration range simply by being held against measurement object.
5.Hold function makes measurement results easy to read.
6.Auto power off design without power switch conserves battery power by shutting the unit off automatically
7.Specifications:
Accelerometer: Shear-type piezoelectric
accelerometer
1.Measurement range:
2.Acceleration∶0.1-199.9 m/s²peak
3.Velocity: 0.01-19.99 cm/s(rms)
4.Displacement: 0.001-1.999 (mmp-p)
5.Display: 3-1/2 digit digital display
6.Power requirement:
6F22 9Vbattery,Battery life: approx.25h
7.Dimensions and weight:68(W)X 185(H) X30(D)mm
8.Approx. 270g (incl.Battery)